Europe's leading manufacturer of ultra-premium pet food is launching one of VAFO's flag­ship brands, Planet Pet Society. This recently introduced premium brand is distributed by Musti ja Mirri. The main mission of this brand is to reduce waste with second-chance ingredients and the efficient use of available resources. Planet Pet Society introduces a revolutionary concept of sustainable pet food and treats to the market.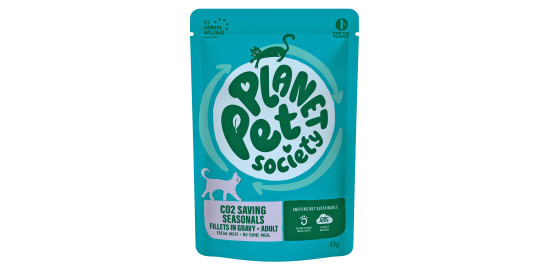 First and foremost, this brand can be proud of its pronounced use of second-chance ingredients. The brand is also distinguished by its climate-neutral footprint and exclusive use of fully recyclable packaging. In terms of sustainability, it ranks among the market leaders in the pet food industry. The concept of global responsibility is another factor that features large, as the brand has been a proud participant in the "1% for the Planet" programme for several years.
Planet Pet Society provides a solution for those who wish to provide their pets with super-premium food and at the same time desire a less wasteful world.