Leo J. Wahl invented electric hair clippers over 100 years ago. Since then, the Wahl Clipper Corporation, based in Sterling (USA), has led the field in hair clippers and the company has six production plants, as well as sales offices in 20 countries.
The German brand Moser has been synonymous with coat care for pets for over 70 years. In 1996, the Wahl Clipper Corp. in the USA acquired the brand and company. Completing this takeover meant primarily that Wahl acquired competence in working with steel that originated in traditional Black Forest craftsmanship.
Created in Germany
Since 2021, all appliances under the Moser Animal brand that are exported globally for use in coat care have not only been developed but are also manufactured at Wahl in Germany. "Made in Germany" is a key to success in the global complex of companies. In particular, no clone from Asia has so far come close to the durability of the clipper sets made from German steel.
The growing business created space problems, however, and the previous location in Unterkirnach was no longer big enough for the expanding company. Several aspects had to be outsourced, and the workforce numbering 250 meant that action was called for. A new site was found in St. Georgen, a few kilometres away and located directly on the B33 just before getting to Villingen-Schwenningen. Here the new premises were constructed on a former industrial site, bringing all departments of the core business back under one roof. As well as the administrative functions, production, warehousing and logistics, in-house research, development and testing are also accommodated here. Work on developing and improving the appliances is carried out on an ongoing basiand extensively documented test series are undertaken in which the machines cut copper wire, which is most similar to pet and human hair, over a number of hours.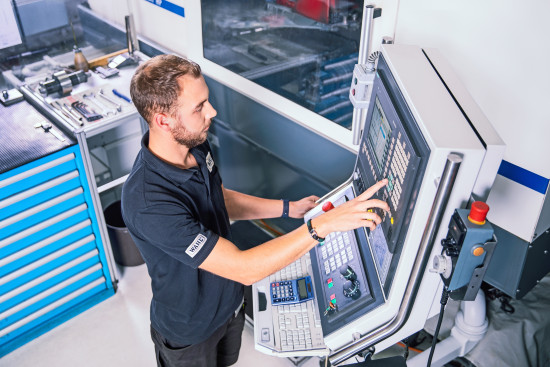 The clipper sets produced in St. Georgen are legendary among experts and their manufacture is a complex process. The individual parts are cut from a steel band and then pass through several stations and 14 processes to turn them into the end product. It is not for nothing that this process forms part of the company's core competence: even the grinding stones required for this, so-called profiling rollers, are manufactured in-house.
The appliances are then assembled at a number of assembly stations, in part by hand and partly in elaborately designed robot facilities. Around 1.4 million products are manufactured annually in this way in St. Georgen.
Multibrand strategy
The range continues to be categorised into three product groups. The company's Wahl Professional Animal line caters to professional groomers and veterinarians, and products for every grooming application for horses and in the livestock sphere are developed under this brand. There is also a product line for hairdressers and barbers.
Moser Animalline is the product group for private users, who obtain the appliances primarily from pet stores. This line comprises seven appliances along with numerous grooming tools. Shampoos and care products are not yet included in the range, with one exception: the paw spray, Moser Pretty Paw, which has become established and is obtained from a German supplier.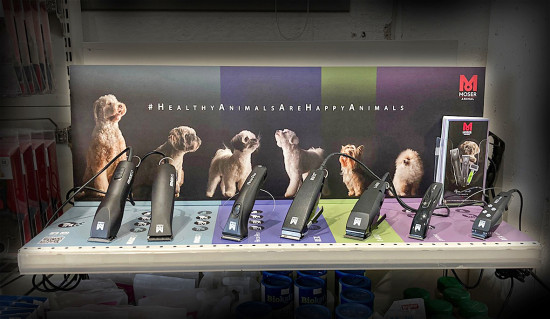 With the acquisition of marketing distribution across Europe for the Hansgrohe Dog-Shower, a product that is not manufactured in house has been introduced into the assortment for the first time. Hansgrohe is a premium brand of sanitary products based in Schiltach, not far from St. Georgen. It has developed a range of specially designed dog showers, and the aim of this cooperative initiative is to extend the company's success in the sanitary field to the pet sector also. Wahl will support speciality retailers in future with product videos (QR code) and test showers to explain to customers how the product works.
The trend in the market ­continues to be positive for Wahl. It seems that dog owners and groomers are opting more than ever to acquire a high-­quality clipping machine as well as a trimmer.