The next Zoomark International in Bologna will be a special trade show. In 2021, the Italians noted with considerable satisfaction that around 60 per cent of the exhibitors were from abroad. With regard to trade visitors, on the other hand, the attendance was dominated by Italians, accounting for 70 per cent of the total. The 30 per cent of foreign visitors from 82 countries nevertheless showed that Bologna has become a sought-after international trade fair destination with plenty of growth potential in the pet sector.
"The next edition of Zoomark International will turn its attention to innovation, sustainability and social awareness," announced head of sales Pascale Sonvico at the International Pet Conference. New products are to be presented once again in a separate area at the show, while other proven elements such as the Aqua Space, a special presentation focusing on ponds and aquariums, are being retained. The website has also been revamped and improved, and the show's social media presence has been stepped up with the creation of a dedicated Instagram account.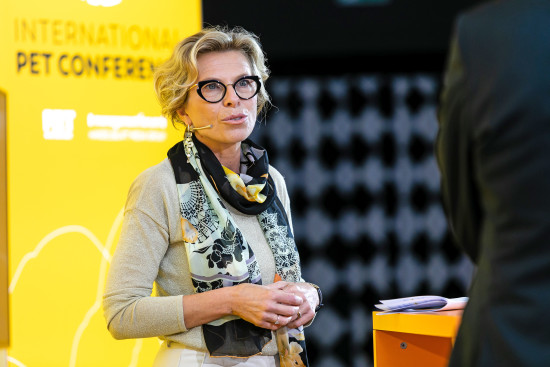 Start-ups and treats
At the start of January, the fair company announced excitedly that Zoomark was extending its offering by adding another hall, Hall 22. The show will thus occupy seven halls, covering a total area of 62 000 m² and hosting more than 800 exhibitors from over 45 countries.
"
We wish to promote all companies taking their first steps in the pet requisites business
In the Next zone, the organisers of Zoomark International are dedicating an entire area to start-ups in the pet sector. "By this we wish to promote all companies taking their first steps in the pet requisites business," said Pascale Sonvico. This zone will be located in Hall 28, where small, well-equipped stands will be grouped on which new companies can take advantage of the international shop window offered by the leading fair of 2023 to introduce themselves to the market.
Pascale Sonvico concluded by adding that new international trends would be highlighted at Zoomark in the Pet Vision zone. One of the focal points here will be treats in the Aperipet area