When pet lovers and couple Ashish Anthony and Poorvi Anthony opened their first store over eleven years ago, no one imagined what it would turn into. Within a decade, Just Dogs became India's number one in the pet store landscape. With more than 30 mio pets, India is probably the fastest-growing pet market in the world. The demands of Indian consumers have also changed significantly in respect of pet owning. This change has helped the market to evolve massively, and Just Dogs is at the heart of this process. The speciality chain has become one of the biggest providers of services and solutions for pets, offering a host of products under national and international brands.
Still plenty of potential
Now with over 42 stores in 16 Indian cities, Just Dogs has a customer base in excess of two million and a market of 300 million households that is yet to be opened up. "Our plans for a five-year expansion strategy are taking shape, taking an exclusive presence in around 20 of the country's 29 federal states into account," says Poorvi Anthony.
The success of Just Dogs has been defined primarily by its approach to pet care. Just Dogs is seen as the only brand in all of India that concentrates on products offering both health and safety for pets. Moreover, thanks to its continuous investment in products, brands to support the retail trade, event brands, digital platforms and publication brands, Just Dogs has itself become successfully established as a brand.
"
The love of pets is aprerequisite for every staff memberthat we employ,   
"Our product catalogue comprises almost 14 000 pet products in the categories of food, toys, training, pet care and other accessories, making us unique throughout India," continues Poorvi Anthony. She emphasises that in contrast to other suppliers in the Indian market, Just Dogs is more than just a pet food brand.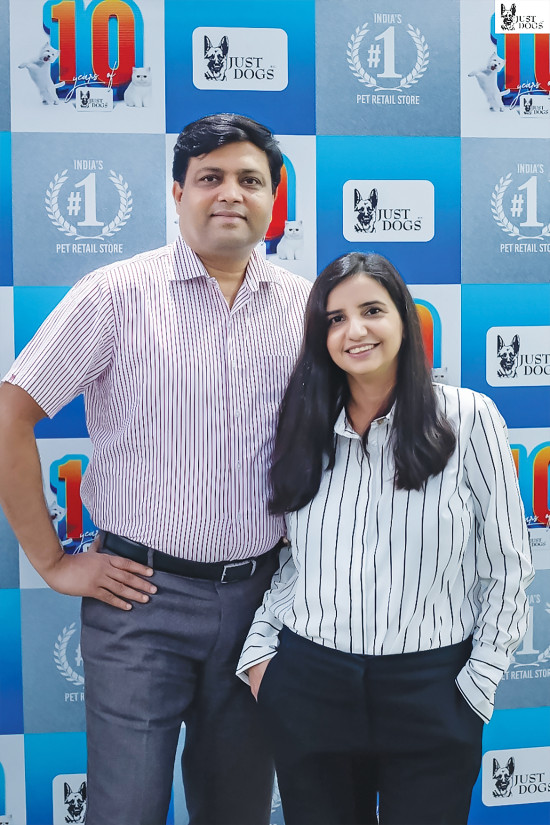 "Our customers have entrusted us with their beloved companions from the start. We have succeeded in creating an internal community of pet lovers. This love of pets is also a prerequisite for every staff member that we employ," adds Ashish Anthony.
Focus on private label products