They are located in Dompierre-sur-Besbre in the Auvergne-Rhône Alpes region, in Aubagne in Provence-Alpes-Côte d'Azur and in Mallemort, also in the region of Provence-Alpes-Côte d'Azur. The latter site also features a newly built pet store under the Kiriel brand. These new openings bring the franchise company's total number of stores in France to 86.
Pilot store
The new branch in Dompierre-sur-Besbre, which opened in March, is a pilot store of the company's central office. Here the retailer trials new product lines and new customer communications strategies. Carole Margelidon, previously employed at the Kiriel store in Cercy La Tour, has been appointed manager of the store, which has premises and an outdoor area each covering 300 m2. In the store, customers will find a large range of garden products, plants, pet food and accessories for dogs and cats, sturdy footwear and regional products offered in conjunction with local partners.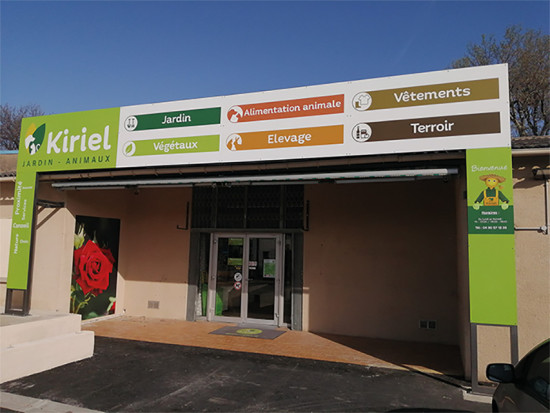 Kiriel made contact with Laurent Benzi and his wife because the couple had decided to open a garden centre in Mallemort serving the local community. This was in addition to their two pet stores operating under the Animal Nutrition Provence banner, which are now being run along with the garden centre under the Kiriel brand. The pet store in Mallemort has a retail area of 280 m2 and will sell exclusively pet products in future, while the second store in Aubagne will now operate as a combined garden and pet centre on a retail area of 250 m2. The new garden centre is composed of an indoor retail area covering 250 m2 and a 600 m2 outdoor area.
Staff additions
There have also been staff changes at Kiriel. A newcomer to the team is Fabien Gaucher. He succeeds Didier Martin and his task in the future will be to diversify the suppliers' product offering further as well as consolidate the current partnership with the Apex retail group. Gaucher will also look after some of the Kiriel stores, upholding the company's philosophy of always maintaining close contact with the businesses on the ground. Prior to joining Kiriel, Gaucher was employed at the Botanic chain of garden centres and with the agri-trade company Agro…