2021 was another successful year for the pet supplies sector in the USA. Following a substantial jump in sales the previous year to 103.6 bn dollars, the market saw significant growth in 2021 also that was manifested in all segments of the business.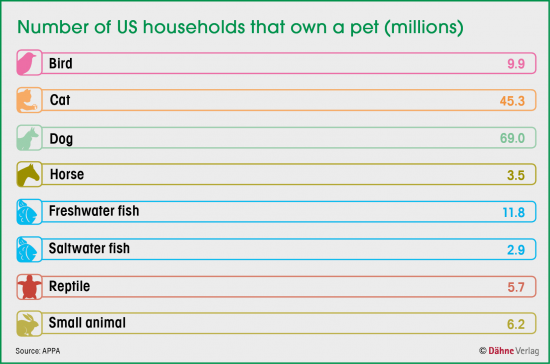 Business segments
Estimates by APPA suggest that sales of pet food and treats increased by 2.1 bn dollars over 2020 to 44.1 bn dollars. Marked increases were noted also in sales of other supplies, live animals and OTC medicine, rising from 22.1 bn dollars to 23.4 bn dollars. Sales of veterinary care and products grew, with the volume of this business segment increasing from 31.4 bn dollars in sales in 2020 to 32.3 bn dollars in 2021. Other services, including boarding, grooming, insurance, training and pet sitting, experienced growth last year from 8.1 bn dollars in 2020 to 9.7 bn dollars.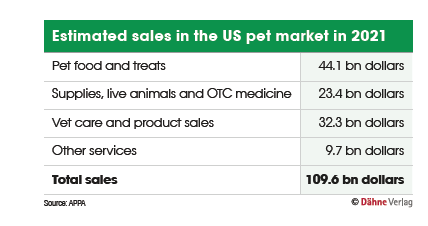 The growth in the market took place against the background of a rising pet population: American households were home to 69 mio dogs, 45.3 mio cats and 9.9 mio cage birds. Based on its annual National Pet Owners Survey, the association puts the number of freshwater fish at 11.8 mio, while 2.9 mio saltwater fish are currently kept in US aquariums, according to the APPA data. Other pets kept by Americans include 6.2 mio small animals, 5.7 mio reptiles and 3.5 mio horses.
Pet owners
So-called millennials born between the early 1980s and late 1990s make up the biggest category of pet owners in the USA, accounting for 32 per cent of all American pet owners, according to APPA. They own the most pets. The baby boomers, those born when births were at a high level between 1946 and 1964, follow at 27 per cent. The Gen X group, which came along from the mid-1960s to the early 1980s, accounts for 24 per cent of pet owners, Gen Z (born between 1995 and 2010) makes up 14 per cent and the "builders" (born between 1924 and 1945) account for 3 per cent.