The pet supplies market in Germany continues to experience an upward trend with total sales of around 6 bn euros. This is according to figures from the Industrial Association of Pet Care Producers (Industrieverband Heimtierbedarf, IVH) and the Zentralverband Zoologischer Fachbetriebe (ZZF).  
Sales of pet convenience food in bricks-and-mortar stores surpassed those of the previous year by 6.5 per cent, totalling 3.685 bn euros. The segment covering pet requisites and accessories likewise experienced notable growth, with sales up by 4.6 per cent to 1.101 bn euros.
Treats driving growth
In 2021, the market for cat food constituted the biggest food segment with total sales amounting to 1.787 bn euros, an increase of 6.4 per cent over the previous year. The strongest growth driver here once again was the treat sub-segment (including cat milk), with sales rising by 9 per cent to 292 mio euros. The moist food category (1.170 bn euros, up 5.9 per cent) and dry food (325 mio euros, likewise up by 5.9 per cent) also recorded significant increases.
In the dog food market, high street retailers saw sales rise last year by 7 per cent to 1.677 bn euros. The treat sub-segment in particular grew substantially, increasing by 11.6 per cent to 672 mio euros compared with 2020. Solid growth was experienced both in the moist and dry food categories, with moist food yielding sales of 525 mio euros (up 4.6 per cent) and dry food sales increasing by 3.7 per cent to 480 mio euros.
A pleasing trend was observed in sales of food for other pets also. After cat and dog food, food for small animals was the third-strongest pet food segment. Following increases in the previous two years, sales through classic distribution channels rose here again (98 mio euros, up 7.7 per cent). Sales of food for ornamental fish rose slightly (56 mio euros, plus 1.8 per cent). Sales of food for cage birds remained steady compared with the previous year at 67 mio euros, but the trend in the wild bird food segment was especially welcome for the pet sector, with sales increasing by 26.6 per cent (!) to 162 mio euros.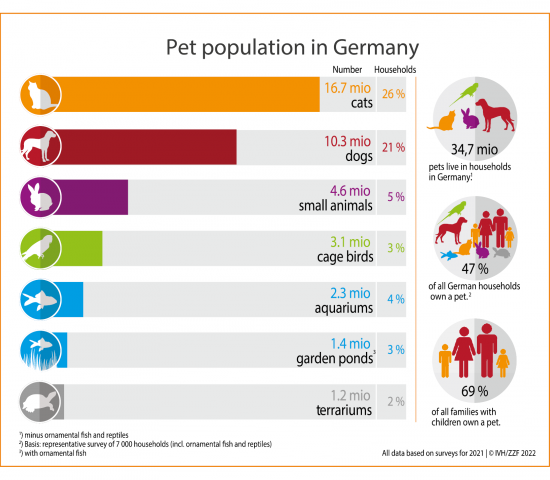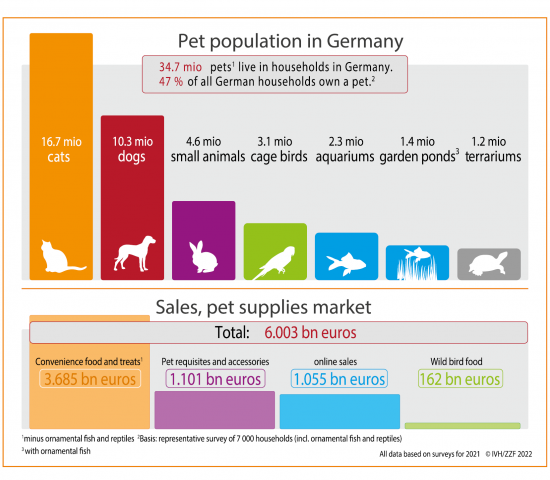 Big increase in dog accessory sales
Sales of pet requisites and accessories in stationary stores amounted to 1.101 bn euros in 2021, an increase of 4.6 per cent compared with 2020. As in previous years, cat litter accounted for the biggest share of sales, which increased by 4.5 per cent to 305 mio euros.
Canine accessories topped the sales growth list, with sales…