Katharina and Stefan Miklauz met while out walking their dogs. When discussing nutrition for their pets, they discovered that none of the premium dog food brands on the market was manufactured in Austria. "This was even though Austria is renowned for producing food of the highest quality and for having some of the most stringent food legislation," says Katharina Miklauz. The couple guessed that probably no one had attempted to manufacture premium dog food in Austria, and so they embarked on the venture in addition to doing their existing jobs, supported by production partners. Eight years later, those tentative beginnings have now grown into a company boasting three brands in the premium pet food segment – and a family with two children.
Dog's Love was the first product launched, a super-premium brand with six moist food varieties. Following its initial listing with major pet stores, the company took great strides forward with a string of new products and finally two more brands. In 2017, a super-premium cat food was added with Cat's Love, followed by Wow, another premium dog food in 2018. "We have prioritised regional production from the outset to enhance our core competence as an Austrian family firm," stresses Katharina Miklauz.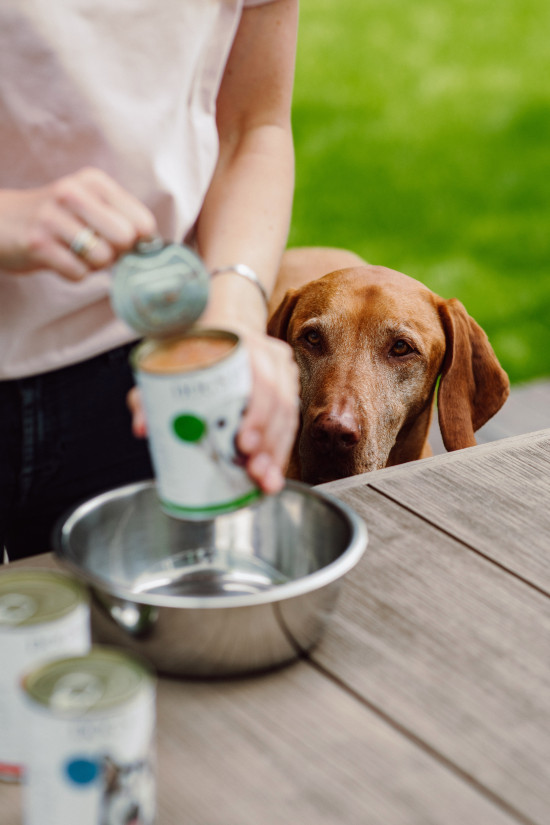 Production in Austria
"In the current crisis we have discovered once again how many advantages production in Austria offers," say the two entrepreneurs. Personal contact, a regional focus, short transport distances giving rise to swift delivery, and regional raw ingredients: the list of benefits is endless. "Of course, the higher cost of production in Austria is a drawback," comments Stefan Miklauz. He is confident, however, that people will pay more for food manufactured in Austria using regional ingredients than for a product from countries to the east. Customers know they are getting quality, after all, and this quality is an asset.
For manufacturers like Petco there are also challenges to be overcome, however. "But it makes the daily round more interesting," says Katharina Miklauz. She adds: "As we are constantly developing our products and brands, there is always something happening at our company. If this were not the case, I think it would be the end of our success. We also work continuously on the products that are already popular and accepted." Like every other company in a number of sectors, Petco is confronted by raw material shortages and price increases. "Since we have strong partners with whom we have built up business relationships over many years, we can rely in these difficult times on the fact that they will try to support us to the best of their ability," believes Stefan Miklauz. This includes production of the moist food range, for which it is accepted that more expensive raw ingredients must be bought to fulfil orders. Packaging manufacturers have also made their last resources available to the company. "Strong partnerships pay off in tough times, and we are finding this more than ever now," affirm the couple.
Thanks to the solid basis on which the brands have been developed, Petco has a delivery capability of 99 per cent. "We hear from many retail partners that their shelves are empty because products cannot be delivered. We have avoided this problem due to reliable partnerships and good warehouse capacity," says Stefan Miklauz.
Staying close to home
The Petco entrepreneurs believe that Austria is a pioneer in organic quality food and will remain so. They will continue to focus on the Austrian market as the company's domestic market, as they can achieve particular success with regional production. "Our production in Austria is regarded as of the highest quality in other EU countries also," states Katharina Miklauz. She concludes that "this is why we will back production in Austria for all new product developments. We won't change our core quality, philosophy and values with the growth of our brands, either, because these are what we stand for."