Whichever way you look at it, increasing the proportion of fresh meat is a key topic in the dog food segment. It was recently reported from the German manufacturer Mera Petfood that "the trend around dog food with a high meat content has become established and persists". The strained situation in the raw materials markets, however, is forcing manufacturers to look for alternative protein sources as a replacement for animal proteins. But alternative protein sources, especially insects, are not popular with everyone. When it comes to products made from alternative proteins, in particular where insects are concerned, a large number of manufacturers report an acceptance barrier on the part of pet owners.
What the retailers say
"As speciality retailers, it is important to us to offer pet lovers a large and multifaceted product selection. This includes embracing new trends. We have incorporated alternative protein sources from various manufacturers into our range," reports Stefanie Klasen, category manager of the German pet store chain Das Futterhaus. Her comments reflect the standard practice in pet supplies retailing. In the category of treats for dogs in particular, pet owners are more open to trying new things and treats containing insects as a protein source are the beneficiary of this.
"
The insect protein segment is growing but as yet has no absolute volume shares. 
This is happening on a small scale, however. "In the dog food market, the insect protein segment is growing but as yet has no absolute volume shares," stresses Ramin Danaei, managing director of the Kölle Zoo store group, which is part of Fressnapf. Insect proteins are still regarded as a niche item here, for example as an alternative for exclusion diets or as an occasional food supplement.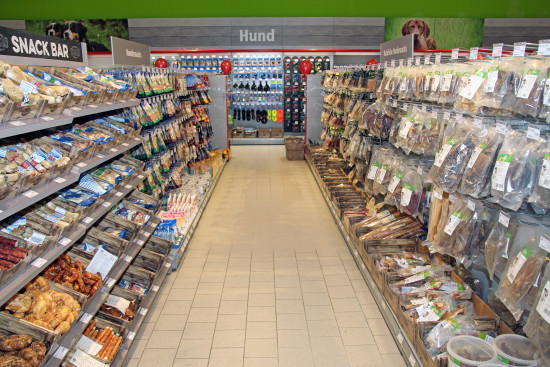 In the Megazoo branches of Thomas and Felix Bangel, the topic of sustainability has always played an important part. They are therefore happy to support the concept of food from alternative protein sources. Junior manager Felix Bangel points out, however, that "advice for the mainstream is more challenging; after all, we first stressed grain-free and then a high meat content – and now we should do a U-turn towards meat-free". It is only in the bigger urban areas that the concept is easier to incorporate through the organic trend.  
"We have tested this with various brands, but…