The last year has been hard for the pet sector in Eastern Europe. In a region which had depended so heavily on trade links with Russia hitherto, the consequences of the war have not only impacted production by pet food manufacturers, for example. The purchasing behaviour of pet owners has changed significantly, not least because inflation, which is running on average at 18.03 per cent, is more than twice as high as the average across the entire euro zone (8.6 per cent).
In Russia and Belarus, the sanctions by Western countries have cleared large swathes of imported pet product brands off the shelves. Furthermore, it is reported that the price of imported pet food has rocketed. The Belarusian manufacturer Belkorm reports in this context that it has doubled its production in the last year and has even brought a new line of dry food for dogs and cats onto the market. "The popularity of our products has increased sharply in the domestic market," company boss Igor Loboda is quoted as saying in an interview. 
A similar situation also exists in the countries more oriented to the West, such as Poland, the Czech Republic and Hungary, however. Hungary has experienced inflation of 14.5 per cent and a big increase in the average price of pet food. Second example: Poland. Here a study by Think Tank UCE Research indicates that the average price of dog food rose in the first six months of 2022 by 26.6 per cent, while cat food was 11.7 per cent dearer.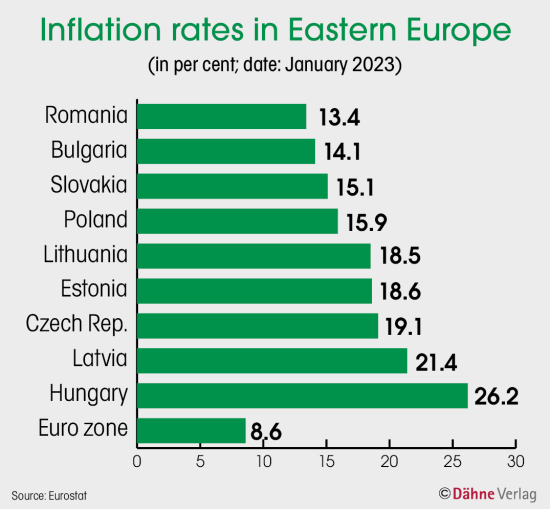 Comments by manufacturers
"In Poland, Romania, the Czech Republic and Bulgaria, customers are continuing to choose familiar brands, but no longer in the super- or high-premium segment, rather the premium line of the same manufacturer," reports Malte Hübers, managing director of Dr. Clauder. The company is supporting its importers by ensuring the availability of products and with special promotions from which consumers can benefit.
Boy Tadsen, director of export wholesale at Trixie, reports: "Our importers and partners in these countries are currently demanding fewer goods, as they are still living on the stocks built up rather too enthusiastically during the pandemic and have extremely modest expectations on account of the crisis situation." He stresses that the cost increases Trixie has incurred itself have only been passed on in part to keep the price/performance promise to pet stores and consumers in a spirit of partnership, even if profits have declined as a result. Tadsen is hearing from retailers that…