Both managers have spent many years with the Nestlé Group and have plenty of experience of the pet food business. Topilnytska, the chief commercial officer (CCO), has worked in the Nestlé Group since 2000, most recently as regional director of insight & innovation from 2019 to July 2022. As successor to interim manag­ing director Hubert Wieser, she has responsibility for distribution, marketing, product development and finance at Terra Canis. The principal responsibilities of Reinarz, who is chief operating officer (COO), include oversight and organisation of the HR, IT and operational aspects of the business, thus also ensuring the supply of raw materials and product availability. Before moving to Terra Canis, Reinarz's career at Nestlé spanned 27 years, during which he held a variety of posts. His most recent appointment was as regional supply chain director for Nestlé Purina's Central Region from 2015 to November 2021.
After increasing the 80 per cent majority holding it acquired in Terra Canis in 2017 to 100 per cent last year, Nestlé may well have taken the right step in putt­ing an experienced team in as new directors of the Munich-based company. Times are not easy, even if Terra Canis has evidently not felt the impact of in­flation and consumer reticence yet, or at least has only been affected to a small extent. Double-digit sales growth was recorded by the company in the first ten months of last year, according to Reinarz. He is confident that the super-premium segment in which Terra Canis operates will be hit less hard by the crisis than other price categories. The company uses primarily German raw material suppliers, where possible those based in the region.
In past years this has helped to maintain supply chains, says Reinarz, as has the fact that Terra Canis invests a lot in constantly increasing its production capacity. In its production plant in Petershausen near Munich, which only opened in 2019, the company has recently expanded its autoclave capacity, launched another production line for cat food and procured a new mixer. The plant is now operating two shifts to satisfy the high product demand and talks are underway regarding extending the production hours. "We are doing everything we can to raise plant output," comments Reinarz, announcing that a refrigerated warehouse accommodating 650 pallets is to be commissioned, probably in the fourth quarter of next year.
"
We are doing everything we can to raise plant output,"
Expanding the assortment for cats
Dog food still accounts for 90 per cent of sales at Terra Canis, with moist dog food by far the biggest-selling product. Topilnytska aims to broaden the company's portfolio. She believes that cat food, where Terra Canis markets the Terra Felis brand, has great growth potential, along with treats for dogs and cats. The managing director's view of cat food as a growing segment but one that is capable of being developed much further by Terra Canis is based primarily on the small feline range compared with dog food. Changes are to be made here, and the qualitative advantages of Terra Felis are to be communicated to consumers much more emphatically in the future.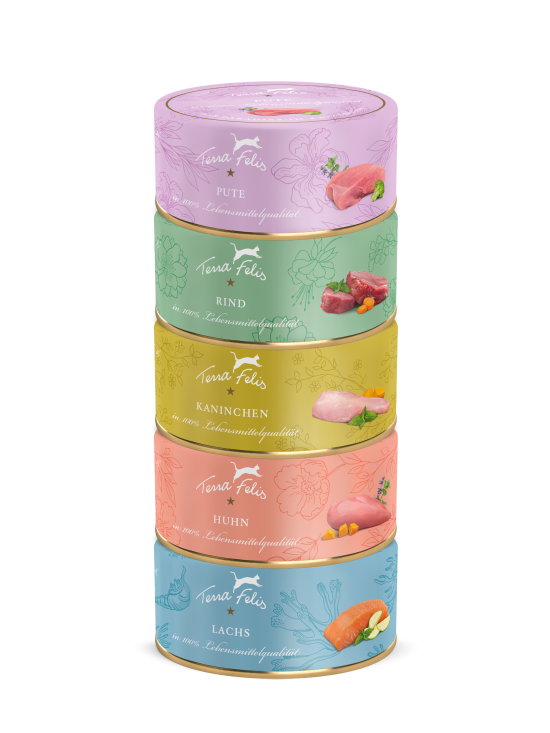 Export plans
A more prominent role in inter­national markets is also expected to be a focal point for Terra Canis in the next few years. Its export quota is currently 20 per cent, although the company is already distributing its products to 15 countries. This shows how far advanced Terra Canis is in the German-speaking countries, because its turnover abroad is anything but small, according to Topilnytska. Italy and France are among its main European markets, and the company is experiencing strong growth in Asian markets such as Japan, Korea and Hong Kong also. The company's web shop has proven to be a successful distribution channel alongside high street stores and online retail, raising the com­pany's profile and increasing its presence abroad. This currently operates in the German-speaking countries, Italy, France and Spain, and assumes a key role in Terra Canis's distribution concept.
Focus on sustainability
Sustainability was already a high priority for the company, and great importance was attached to eco-friendly, energy-efficient construction when the plant in Peters-hausen was being built. Production is powered entirely by green energy, while a meadow has been created across the entire roof of the plant and planted with special grass varieties and flowers as a contribution to renaturing of industrial spaces. This environment offers bees and birds a natural habitat and food. The new refrigerated warehouse opening at the end of 2023 will also be planted with grass.
Recycled paper has been used to manufacture the climate-neutral single-use packaging used for trays of tins and shipping cartons. In this way, Terra Canis is supporting forest conservation projects in Brazil. A line of the company's own foods will provide long-term funding for specific environmental projects related to sustainable energy, clean oceans or reforestation, with a donation made to a particular project for each can of food sold. Terra Canis will also continue to be actively engaged in increasing its sustainability by testing alternatives to meat more often in future as a source of protein for its pet food products. In particular, it is looking to develop treats and dry food products for dogs that are manufactured on the basis of insect protein.