No normal office routine, no travel, no visits to cultural or sporting events and no meetings with friends and acquaintances: during the pandemic, many people were left to their own devices and confined to their closest family circle. Home hobbies were booming - especially aquatics, with pet retail groups reporting an enormous increase in sales during the coronavirus period.
A look at the Fediaf figures reveals considerable differences between individual European countries. While Germany experienced a constant upward trend in small increments from 2020, Fediaf calculated there had been an enormous jump of almost four million new aquariums for the United Kingdom. Equally astonishing were the figures for Switzerland, where the number of aquariums virtually quadrupled from one year to the next.
But who were the new aquarists? Whatever the answer, they included many young people who probably came across ornamental fish keeping mainly on the Internet and thought it was cool to get their own aquarium. Ramin Danaei, managing director of the German pet store chain Kölle Zoo, for example, reported in an interview about aquarium customers in his stores that "the spectrum ranges from children who are enthusiastic, teenagers and young people who are starting out or have been at it for years, to real aquarium veterans of advanced age and business people who just want to have it nice at home."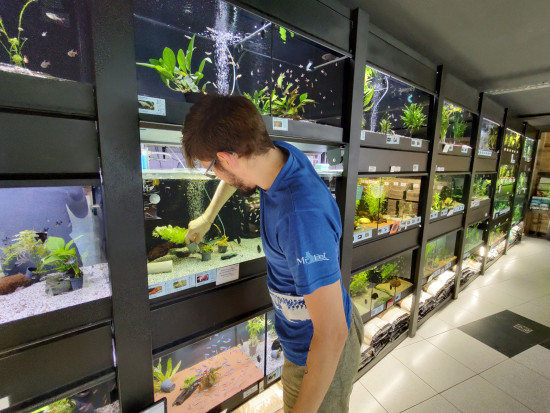 Voices from the trade
In the Slovenian pet shop group Mr. Pet, there are larger stores featuring aquarium departments with live fish for sale. A lot of emphasis is placed here on giving advice about setting up the aquarium and its long-term care. The range includes over 300 species of freshwater fish, aquatic plants and invertebrates as well as aquarium accessories such as aquarium sets, filters, lighting, heaters and decorations. Mr. Pet also represents the products of Europe's largest aquarium manufacturers Aquael and Aquatlantis, as well as the brands Fluval, Prodac, Tetra, Tropical, Easy Life, Exo Terra, Repti Planet, Ferplast/Hydor, JBL and Sydeco. "Aquatics accounts for a significant part of the total turnover in our shops," said a company spokeswoman.
"
Customers are opting for aquariums that are very similar to the natural habitat.
At Petoutlet in Portugal, it is reported that the aquatics segment has made strong progress. "More and more customers are opting for aquariums that…