In the 2022 financial year, which ended on 31 March, the retail sales of Pets at Home grew by 17.7 per cent in the stores to GBP 984 mio (approx. 1.155 bn euros) and by 18.4 per cent in omnichannel sales to GBP 190.9 mio (approx. 224.15 mio euros).  
Pets at Home states that it has achieved higher growth than the overall UK pet care market. The retailer has grown its customer revenue at 10 per cent CAGR over the past five years, whereas the overall market achieved growth of 4 per cent during the same period. 
457
is the number of pet stores which were ­operated by Pets at Home by the end of fiscal 2022.
The retailer emphasises that it has added 1.2 mio new puppy and kitten customers during the financial year, leading to a rise in average spend across all customer groups. Vet Group revenue increased by 12 per cent to GBP 108.4 mio (127 mio euros) in the financial year. New client registration through the company's First Opinion veterinary practices averaged approximately 9 000 per week, with an active client base of 1.7 mio. The number of pet care plan subscriptions across the group grew in comparison to fiscal 2021 by 23 per cent to 1.5 mio, generating over GBP 120 mio in annually recurring customer revenue.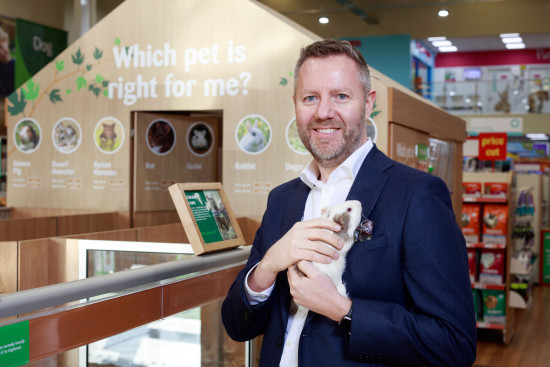 "Robust and growing"
Pets at Home believes that the pet care market will remain robust and continue to grow. With the customers joining its puppy and kitten club, the retailer is sure to progress beyond pre-pandemic levels and maintain growth in customer spend across all categories and channels. The retail group also aims to focus in future on the advantages of its omnichannel model in consistently taking market share. Pet care must be affordable, easy and convenient, says Pets at Home, describing its concept for the present and the next few years.
"
This year, we delivering record sales, profit, and cash flow. 
"Despite another period characterised by significant and evolving external challenges, our performance this year has been noteworthy, delivering record sales, profit, and cash flow," said Peter Pritchard before leaving Pets at Home at the end of May. He had joined the retailer in 2011 as commercial director, subsequently being appointed chief executive in March 2018.  The manager joined as chairman of the administrative board at…