For Kim Troch in Mechelen, Belgium, the coronavirus pandemic was not a good experience initially. Young and self-employed, she looked in vain for work from one day to the next, because the whole of Belgium was in lockdown. Only essential stores such as supermarkets, pharmacies and pet stores were allowed to remain open.
As a dog trainer and behaviourist with over ten years' experience, she thought long and hard about how to get more out of the knowledge she had accumulated. Her customers were still approaching her with a myriad of questions: "What is the best food for my dog and which treats are healthy?", "What about toys, what would you recommend?" and "What should I bear in mind with regard to my dog's sleeping area?"
Start-up on 20 m²
"I opened a 20 m² shop in probably the ugliest shopping street in Mechelen and christened it  Tldoggybakery & Shop," recounts Kim Troch. Tldoggy is an abbreviation of Tender Loving Doggycare. She focused from the outset on products that couldn't be found in other pet stores. Although her new venture meant taking a huge risk, word got around quickly and she soon acquired a loyal customer base. As invariably proves to be the case in situations like this, it was only a year before Tldoggycarebakery & Shop had to move to bigger premises with a retail area of over 60 m².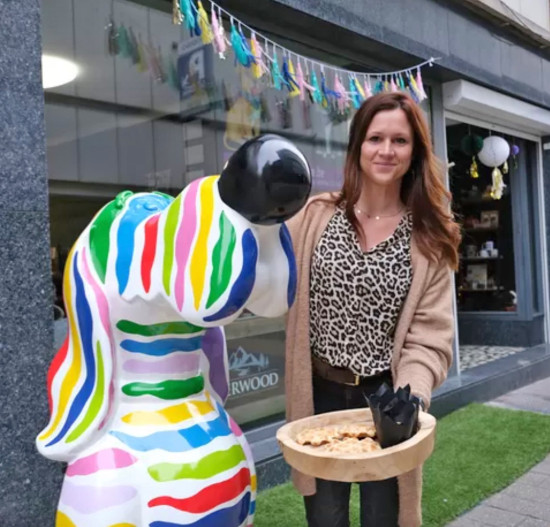 The unique selling point of Troch's business that probably stands out most is her dog bakery, which turns out tasty, healthy dog biscuits, waffles and puppy and birthday cakes. "The biscuits come in seasonal flavours and contain plenty of fresh fruit and vegetables, but no fat, no eggs or other animal by-products or preservatives," says the young entrepreneur. At Christmas she even produced a decorated Christmas Stollen for dogs.
"Mechelen may not be the biggest city in Belgium with a population of around 85 000, but not a week goes by without someone discovering something new in our bakery and shop," she says proudly. She also offers a cookie box concept under which customers can subscribe to a monthly delivery of healthy, freshly baked biscuits to their door.
"
Not a week goes by without someone discovering something new in our bakery and shop.
Expanding through
…