India is among those countries in which the canine population increased sharply as a consequence of the coronavirus pandemic. It is expected that the Indian pet supplies sector, which will attain a value of 533 mio dollars by the end of the year, will grow at 22.15 per cent annually to over 1 bn dollars by 2026. Pet food will account for around 80 per cent of this.
Dog food
Indian dog owners are spending more and more time with their pets. Ganesh Ramani, managing director of Mars Petcare India, says: "We are sure that calorie consumption has increased significantly, because many dog owners spend a lot of time at home with their pets and are feeding them more than ever before on the right food as well as giving them treats." Indian dog food manufacturers have never experienced such a boost in demand; some had warehouse stocks, while others attempted to bring in new stocks. Bharat Pittie, director of Orange Pet Nutrition, reports: "2021 was a very exciting year for the pet sector. It was a year of phenomenal growth for us. One of the main reasons for this was that we sell a large number of brands that have now become established in the market and we recorded huge growth in demand for our brands."
Imported brands such as Pedigree, Iams, Arden Grange Taste of the Wild, Acana, Orijen, Farmina, Purina, Fish for Dogs and Royal Canin account for 80 per cent of the Indian dog food market. Indian pet food brands are becoming increasingly visible in the market, however. The largest of these is Drools Pet Food. CEO Dr Sinha Shashank says: "We produce more than 3 600 tonnes of dog food per month. With regard to cat food, we are reaching nearly 1 000 tonnes a month and will get up to 5 000 tonnes this year." Other Indian brands include Fidele Plus, Healthy Pet Food, Ykibble, Kittibles, Wag and Love. Fresh food for dogs is also gaining market share, however; this trend is accompanied by a greater awareness of natural, preservative-free food for pets.
Snacks and treats manufactured in India have also acquired market share, and the number of these has increased rapidly in the last three years. They include Happy Puppy, based on hemp, Dogsee Chews, jerkies from Doggie Dabbas, Huft and Just Dogs Snackers. Vivaldis produces unique treats containing hemp and multivitamins.
Pet care and accessories
Dogs are permitted on beds and sofas in a growing number of Indian households, so pet owners take special care to ensure that they stay clean and healthy. This has boosted sales of pet care products and given rise to an increase in grooming salons. Papa Pawsome, Captain Zack and Basel sell high-quality shampoos, paw balm and perfumes. Indian brands are putting up strong competition to global brands with quality products, which are available in stores and online, and aggressive marketing plans.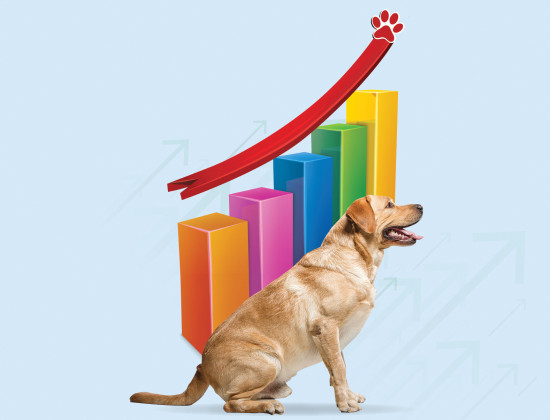 According to one market research study, the market for pet shampoo and conditioner will attain a volume of 483 000 dollars by the end of 2025. Grooming salons are also multiplying and some experienced, certified dog hairdressers offer grooming courses. Groomers play a key role here, because after veterinarians they are the second most important go-to for pet owners: experts even say that groomers wield as much influence as vets.
Clothing and accessories for dogs come in various sizes and styles. Trained fashion designers have ventured into the business and know how to create apparel for dogs that is both stylish and comfortable. Mumbai-based Fluffy's Collection offers a range of regular items as well as clothing and accessories for particular occasions, while Kitty and Woof Gangs of Delhi sells its products via e-commerce and retail channels. It is estimated that the market for pet accessories wi be worth 106 mio dollars by the end of 2024.
Just Dogs and Heads Up for Tails have a number of stores across India and operate as omnichannel businesses. There are also several small chains with five to ten outlets. A lot is going on in this segment of the Indian pet supplies sector and competition will increase further.
India is in a good place and is on the verge of making a breakthrough.
Source: Creature Companion