This was the announcement by company founder and proprietor Torsten Toeller at the digital annual press conference held at the end of February. All new bricks-and-mortar stores are to be digitalised and networked. Expansion is to be focused on Poland and France, the two country markets that grew most in the corporate group in 2021 alongside Denmark (+65 per cent), with sales increases of 46.2 and 33.1 per cent respectively. Fressnapf also intends to launch this year in a new country market, Romania (as already reported in PET worldwide).
250
mio euros and more invested by Fressnapf in 2021 and 2022 in new stores, tech­nology, services and tech­nical infrastructure.
With sales totalling 3.17 bn euros, including 1.8 bn euros in Germany, 2021 was another record year for Fressnapf, equating to growth of almost 20 per cent or 523 mio euros. "Our growth is triple that of the market," said director Christian Kümmel emphatically, referring among other things to the significant increase in checkout receipt in Europe of 7.9 per cent to 26 euros. Now that Fressnapf operates an online shop in all eleven markets, sales jumped by 54 per cent last year to 245 mio euros. The high growth in e-commerce sales is attributable in part to the opening of new online shops last year, although Toller stressed that an increase of 35 per cent was achieved even in countries such as Germany, where Fressnapf has been online for a number of years.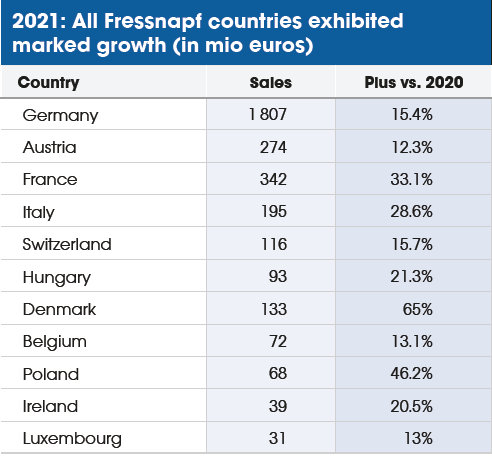 High level of investment
"Omnichannel will be the winner in the pet supplies sector. Customers who shop both on- and offline at Fressnapf spend three times as much as other customers," said director Dr Johannes Steegmann confidently. He stated that Fressnapf's ecosystem will be developed targetedly in the coming years. Young people and owners with several pets feature particularly prominently among the omnichannel customers, said Steegmann, citing a customer survey by the company. The retail group therefore intends to continue down its chosen path this year, investing 140 mio euros (2021: 110 mio euros) in new stores, new technology and other services and thereby spending 30 mio euros more than in the previous year.
16 000
employees from 50 countries work for Fressnapf.
Like last year, Fressnapf grew rather more strongly with branded articles (+24 per cent) than with its own exclusive brands (+15 per cent). For Toeller, this is a sign that Fressnapf has to become faster and more innovative and that any products not performing optimally under the…