Operating as a global partner for retailers and continuously optimising its product quality and service are the aims assiduously pursued by Ferplast, an international company based in Castelgomberto in northern Italy. Thanks to its ownership of a number of production plants in Europe, specifically in Italy, Slovakia and Ukraine, Ferplast no longer has to rely on imports from the Far East. At a time when supply chains are uncertain and freight costs are rocketing, this independence is a positive development. The company can also operate more flexibly, an aspect that is not to be underestimated when competitors are also ratcheting up production rates. By acquiring the garden and pet accessory manufacturer Marchioro and aquarium technology specialist Hydor, Ferplast has further increased its manufacturing capacity.
Products for dogs
At Zoomark International, the company offered a glimpse of its expanded range. One new addition to the programme is the Superior dog box, which is designed to assist in raising puppies and young dogs. It is adapted to manage their space at home and on the road. Featuring a modern design, the box has three openings on the sides and top and is especially flexible in use.
Another entirely new product is a line of purely plant-based dog treats derived from algae. These contain special additives boasting key positive functions for maintaining canine health, such as improving oral hygiene, reducing faecal odour and protecting the immune system, as well as being free of artificial colourings. Establishing its own factory enables Ferplast to manufacture these products itself at the company's headquarters in Castelgomberto. Due primarily to their shape and consistency, the chew treats help to reduce tartar formation and thereby counteract the production of dental calculus. The range comprises a number of treats of various shapes and sizes extending from the traditional sticks to innovative, fun bonbons or treats in the shape of toothbrushes and bones. A special treat design comes with a lid that can be removed by bending it slightly, revealing a hollow portion that can be filled and closed. Holes in the lid and the hollow body enable the filling aroma to escape, rendering the treat functional and/or irresistible, according to Ferplast.
At Zoomark International, Ferplast unveiled Smile, a new interactive toy for dogs made of extremely durable material. It is filled with dog treats that the dog has to work to release, thereby stimulating the dog's urge to play and preventing boredom from setting in. Ferplast states that Smile also promotes dental hygiene. Another resistant and durable toy for dogs that achieves this end is Chewa Boing, which is made from polyurethane. Apart from the traditional ball shape, the toys are also available in the treat dispenser version, perfect for extending playing time.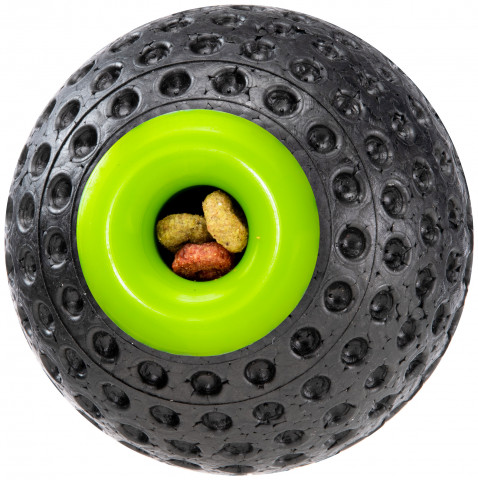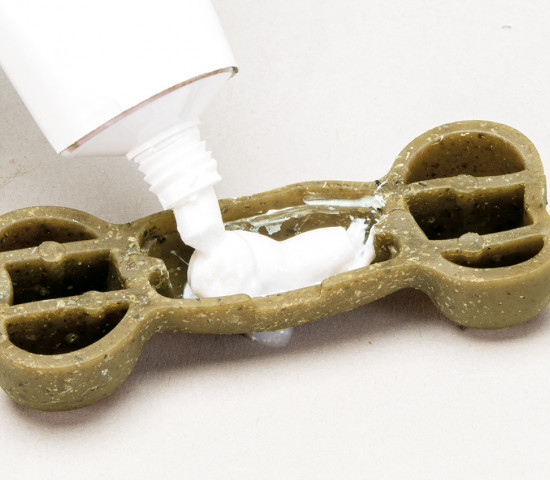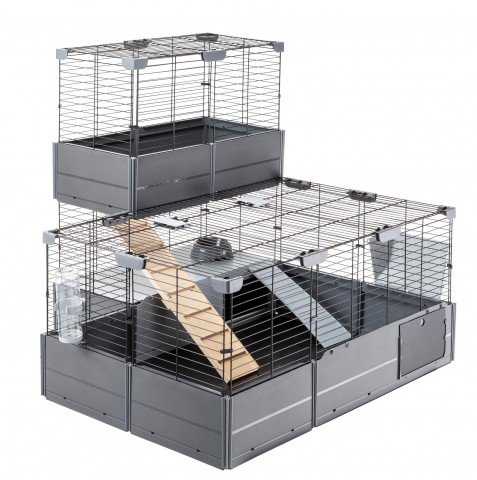 Products for small animals
Catering to small animals is the Multipla cage line with a patented design, offering an extremely spacious and comfortable environment. Ferplast points out that these products consist of a high percentage of recycled plastic. The Multipla items are fully modular and adaptable to the needs of the animals and the owners. In fact, it is possible to increase the living space until the ideal configuration is attained by using two extension kits that can be purchased separately. Various models are available: Multipla and Multipla Maxi, both ideal for rabbits and guinea pigs according to Ferplast, Multipla Double, the two-storey habitat, ideal for accommodating even more animals together and finally Multipla Open, the modular open cage perfect for guinea pigs.
A range of completely redesigned Krolik cages for rabbits was also presented in Bologna. The habitats are equipped with a front wall and roof that can be fully opened to allow greater interaction with the pet and make maintenance even easier. Five different models of assorted sizes are available, all equipped with a ladder to allow the pet to get out of the cage.
To meet the need for greater hygiene, Ferplast offered a new line of cushions made with fabric integrating a sanitising function in Bologna. Thanks to the active ingredients incorporated into the material, bacteria are reduced by 99.99 per cent and viruses do not find fertile ground to develop, according to Ferplast. Another new Ferplast product is the Memor-One dog sofa, equipped with a thick orthopaedic mattress of memory foam, which adapts to the shape of the dog's body and distributes its weight evenly, relieving pressure on the joints. The bed is equipped with thickly padded armrests and a lower front side. This comes in a number of models and is easy to maintain. It has a handy zip that allows removal of the mattress for cleaning.