A study by Global Insights puts the global market for dog food and treats at around 66 billion dollars in 2020. It is expected to grow by more than 4.5 per cent by 2027. The market for cat food is also on the upswing with very similar growth figures.
Treats have a global average share of 50 per cent of the total market and play a special role. Rapid urbanisation, the introduction of nuclear family structures and changing lifestyles are probably the most important factors driving dog and cat ownership worldwide.
Treat products have long been on the fast track in terms of growth. The reason for this is clearly due to a new generation of dog and cat owners, which has developed largely because of the coronavirus pandemic. Home offices and no-contact orders have led individuals and families alike to opt for a pet. Industry insiders know the new pet owners are feeding differently and often more consciously. A regular gift of treats is part of the daily schedule.
Thanks to well thought-out and high-quality treat products, pet owners do not need to have a guilty conscience. Grain-free recipes, alternative protein sources and treat products with additional health benefits are more popular than ever. The unpackaged range in pet shops is also in line with the spirit of the times.
Rising dog and cat populations, especially in the USA, Germany, the UK, France, Southeast Asia, Argentina and other major countries, are expected to give a big boost to the overall dog food and treat industry by 2027.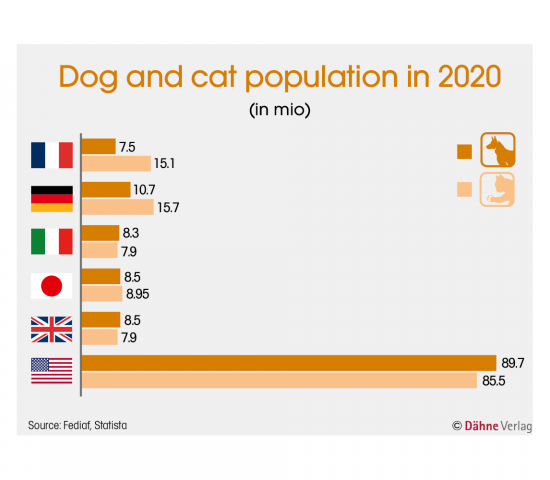 Treats are popular
The market for treats is becoming ever more diverse and reacting increasingly to the sustainability mega trend, of which the public at large has a growing awareness. A look at the data from France, Germany, Italy, Japan, the United Kingdom and the  USA shows that treats are popular above all with dog owners, with the exception of the United Kingdom and Germany. In a study for the US market, market research company Packaged Facts found that super-premium products generated the most sales, with natural recipes in particular demand. The advance of raw-ingredient products is also noticeable, according to the study, along with products offering alternative protein sources.  
Treats occupy a special position…